Here at First Travel Solutions, we're focused on providing services that have sustainability at their core.
The vital role of public transport has never been clearer in helping to address the challenges of climate change.
In April 2021, our parent company, FirstGroup became the first bus and rail operator in the UK to formally commit to setting an ambitious, science-based target aligned with limiting global warming to 1.5°C and to reaching net-zero emissions by 2050 or earlier.
And what does that mean?
As a group, FirstGroup has made several commitments including:
No more diesel buses purchased after 2022

Encouraging the switch from private car journeys to our array of travel solutions

To support accessibility and inclusion to enable people to make the switch to low-carbon travel
Being a division of FirstGroup, we're at the heart of the drive to make travel more sustainable.
With a recent article suggesting that business travel will become 'more purposeful', you may find that you are having to justify the carbon cost of any travel that is involved with your meeting or event.
How can we help?
There's much talk about running sustainable meetings and events at the moment and having properly managed transport for your meeting or event is an easy win - FTS can help organise all your travels needs meaning removing more cars off the road and switching people to coaches to get instant carbon savings. You might be thinking – a diesel coach?! But with advances in super-efficient engines, diesel is a lot better than it used to be! Clearly new sources of power such as hybrid, full electric and hydrogen are all future possibilities which are being trialled at the present time. Each presents its own challenges in terms of supply chain logistics to take over from diesel, so this can't happen overnight.
Easily put: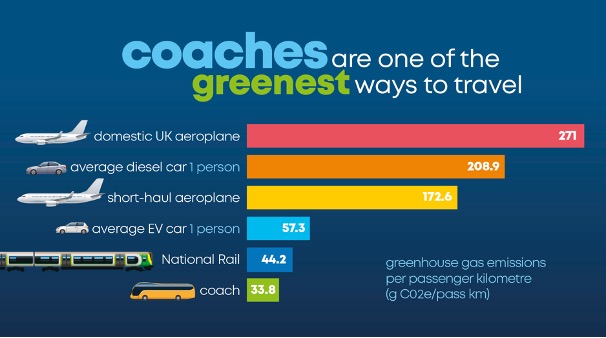 (Graphic courtesy of Confederation of Passenger Transport)
Next time you're wondering how you can make your next meeting or event more sustainable and greener – just give us a call we'd love to help!
Call us on 0345 528 0270 or drop us an email at travel.solutions@firstbus.co.uk